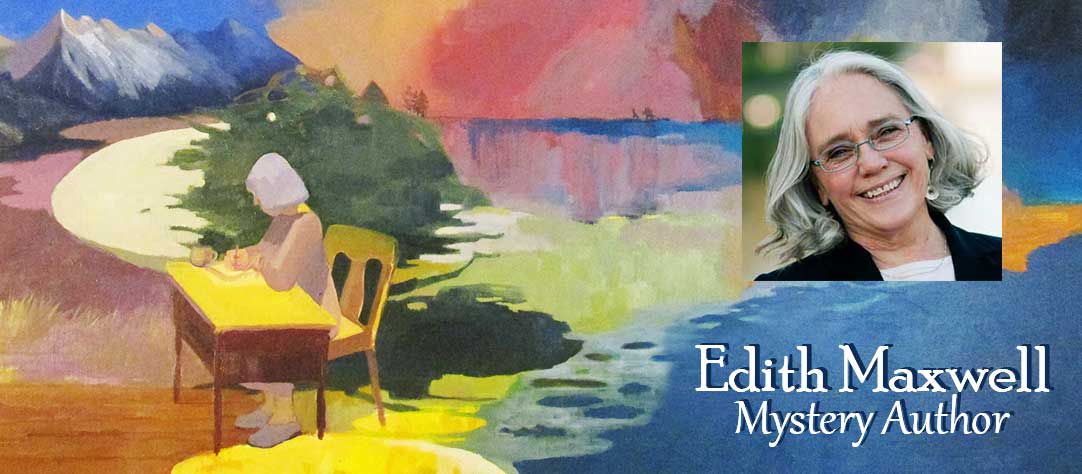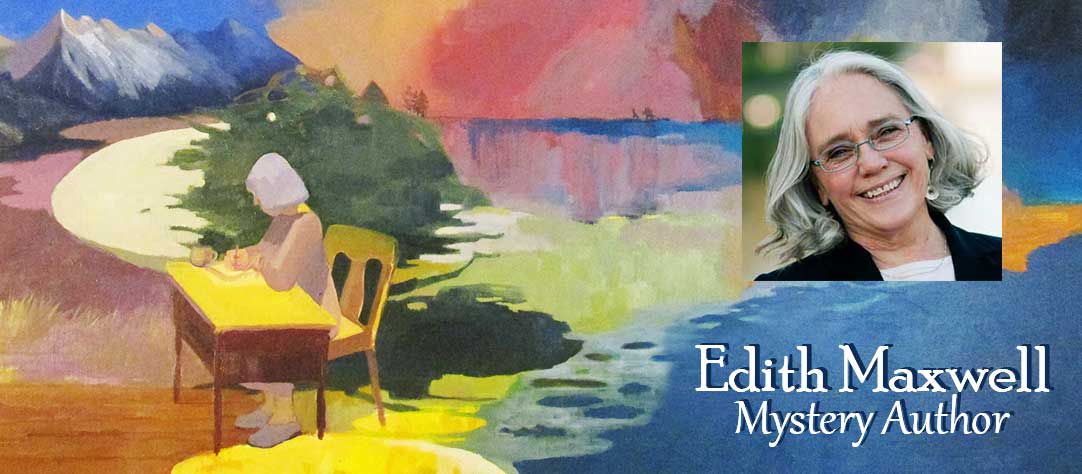 The Agatha-winning historical Quaker Midwife Mysteries feature unconventional Quaker midwife Rose Carroll in late 1880s Amesbury, Massachusetts. The Quaker poet and abolitionist John Greenleaf Whittier is a character in the series.
Charity's Burden won the 2020 Agatha Award for Best Historical Novel, and five of the seven books in the series were finalists for that honor. The first and fourth books in the series were also nominated for a Macavity Sue Feder Award for Best Historical Novel.
Read about the series being selected as the first to be featured in a History & Mystery book club. Watch Edith and other historical mystery authors on a Virtual Bouchercon panel in the fall of 2020.
"Your books are a fine vacation from these painful times, and especially good companionship while my Friends meeting is diminished by quarantine. I'm glad for your books and the values they bring." – A Quaker fan
A Questionable Death and Other Historical Quaker Midwife Mysteries (April, 2023) brings together a number of previously published short stories featuring midwife Rose Carroll, including two nominated for an Agatha Award for Best Short story. The collection, from Crippen & Landru, also includes a new tale showing Rose as an apprentice midwife in her first murder investigation. The limited, signed hardcover edition features a chapbook with another new story. Edith is honored to have an introduction to the volume by Victoria Thompson, author of the Gaslight Mysteries and the Counterfeit Lady Mysteries. Take a pictorial tour of the places in the stories here.
Available from:
A Changing Light (April, 2021) brings changes large and small to Quaker midwife Rose Carroll, who confronts the killer of a visitor to town even as she copes with the death of someone dear to her…
See Edith interviewed about the book, reading two short passages, on the Around Amesbury television show. Hallie Ephron and Edith had a great online conversation about A Changing Light and Edith's writing process.
"A charming and tender series…just the right balance of love, crime and murder" -Brenda, Goodreads reviewer
There are links to more buying options at the bottom of this page.
In Taken Too Soon (September 2020), Quaker midwife Rose Carroll's maiden aunt calls Rose to Cape Cod with her new husband when Tillie's teenage ward is found dead. Rose and David's modest honeymoon turns into a murder investigation. A Native American midwife and her family are among the suspects, as is David's own brother. With the help of the local detective, Rose digs in the shifting sands of the case until the murderer is revealed. The Falmouth Enterprise published a lovely article about the book and its author.
Taken Too Soon is one of only five titles nominated for an Agatha Award for Best Historical Mystery! Award will be announced at Virtual Malice Domestic on July 17, 2021.
"This book is not to be missed!" -Judi, Goodreads reviewer
There are links to more buying options at the bottom of this page.
Quaker midwife Rose Carroll must fight bias and blind assumptions to clear the name of a friend when a murderer strikes in nineteenth-century Massachusetts in Judge Thee Not (September 2019). Rose Carroll is certain her friend Bertie is innocent of murdering a judgmental society matron. Rose enlists the help of a blind pregnant client—who's endured her own share of prejudice—to help her sift through the clues. As the two uncover a slew of suspects tied to financial intrigues, illicit love, and an age-old grudge over perceived wrongs, Rose knows she'll have to bring all her formidable intelligence to bear on solving the crime. Because circumstantial evidence can loom large in small minds, and she fears her friend will soon become the victim of a grave injustice.
Through Quaker Rose Carroll's resourceful sleuthing—and her midwifery—we are immediately immersed in the fascinating peculiarities, tensions and secrets of small-town life in late-19th-century Amesbury. —Susanna Calkins, author of the award-winning Lucy Campion Mysteries and the Speakeasy Mysteries
There are links to more buying options at the bottom of this page.
Charity's Burden released in April, 2019 and won the Agatha Award for Best Historical Novel in 2020. The winter of 1889 is harsh in Amesbury, Massachusetts, but it doesn't stop Quaker midwife Rose Carroll from making the rounds to her pregnant and postpartum mothers. When Charity Skells dies from an apparent early miscarriage, the symptoms don't match the diagnosis. Charity's husband may be up to no good with a young woman whose mother appears to offer illegal abortions. A disgraced physician in town does the same, and Charity's cousin seems to have a nefarious agenda. Rose and police detective Kevin Donovan race against time to solve the case before another innocent life is taken. Find book club questions here.
Murder poses difficult challenges for a compassionate 19th-century Quaker midwife in Massachusetts. Plenty of suspects keep the pot bubbling…Because [Rose Carroll's] actions are motivated by her faith, she won't let threats keep her from doing the right thing as she seeks the truth. -Kirkus  
There are links to more buying options at the bottom of this page.
Turning the Tide, the third book in the series, released in 2018. Excitement runs high during Presidential election week in 1888. The Woman Suffrage Association plans a demonstration and Quaker midwife Rose Carroll resolves to join the protest. When she finds the body of the association's leader the next morning, she's drawn into delivering more than babies. Rose's own life is threatened more than once as she sorts out killer from innocent. Turning the Tide was a 2019 Agatha Award nominee for Best Historical Novel. Find book club questions here.
Edith Maxwell has hit all my buttons again with this one, history, women's history in particular, a strong main character and well rounded supporting characters.  We see grief, anger, fear and love, everything you expect in a normal life and it is all interwoven into a brilliant story. – A Wytch's Book Review
There are links to more buying options at the bottom of this page.
Called to Justice released in April, 2017. Rose Carroll is enjoying the 1888 Independence Day evening fireworks with her beau when a teenaged Quaker mill girl is found shot dead. After a former slave and fellow Quaker is accused of the murder, Rose delves into the crime, convinced of the man's innocence. An ill-mannered mill manager, an Irish immigrant, and the victim's young boyfriend come under suspicion even as Rose's future with her handsome doctor suitor becomes unsure. The book was a 2018 Agatha Award nominee for Best Historical Novel.
There are links to more buying options at the bottom of this page.
Delivering the Truth launched the series in 2016. Midwife Rose Carroll becomes a suspect and then a sleuth in two cases of murder. Can Rose's strengths as a counselor and problem solver help bring the murderers to justice before they destroy the town's carriage industry and the people who run it? The book won the IPPY Silver Medal for mystery, was nominated for both a Macavity and an Agatha Award for Best Historical Novel, and was named Amesbury, MA's 2016 All-Community Read. There are links to more buying options at the bottom of this page.
There are links to more buying options at the bottom of this page.
Where to Buy the Quaker Midwife Mysteries:
NEWS:
Called to Justice  was one of book blogger Reviewer Lady's 2017 top 12 novels.  
Edith's first book in this series, Delivering the Truth won the IPPY Silver Medal for mystery, and was also nominated for the Agatha Award as well as the Macavity, for the Sue Feder Award for Best Historical Novel! 
Edith was the featured author in the Quaker Books column in July, 2017. 
Edith had some fabulous launch parties. In addition to the walking tour featured in the video above, Edith was also filmed talking about her research and read a scene at a local historical society – watch it here.
The Whittier Home Museum staged a reading of scenes from Delivering the Truth featuring costumed actors portraying Rose and Whittier. Watch the video from Amesbury Community Television here. 
See Edith's guest post on Suzanne Adair's Relevant History blog about the series, and her earlier interview with Meryl Goldsmith.
Short Fiction Featuring Quaker Midwife Rose Carroll:
"The Mayor and the Midwife" appeared in Blood on the Bayou: Bouchercon Anthology 2016 edited by Greg Herren (Down & Out Books). The story was nominated for a 2016 Agatha Award for Best Short Story.
In "The Tragic Death of Mrs. Edna Fogg," published in Malice Domestic 12: Murder Most Historical (Wildside Press, 2017), Midwife Rose tracks down the murderer of a local woman suffragist.
"A Questionable Death," a short story featuring Rose and her friend Bertie Winslow, was nominated for a 2015 Agatha Award for Best Short Story. It first appeared in History and Mystery, Oh My! (Mystery and Horror, LLC, January 2015). It's now available for a free read over at Kings River Life Magazine. The story follows Rose and Bertie in 1888 Amesbury, Massachusetts as they unravel a tale of abuse and deceit.
"Adam and Eva," another Rose and Bertie story, is up for a free read on Kings River Life Magazine.
"Breaking the Silence" appeared in Best New England Crime Stories 2014: Stone Cold (Level Best Books, November 2013) and won an Honorable Mention in the 2013 Al Blanchard Short Crime Fiction contest. It received a great review, too, and Edith has reissued it as "A Fire in Carriagetown."
Reviews of Edith Maxwell's Quaker Midwife Mysteries:
Called to Justice…engaging murder mystery with likable characters, a page-turning plot and a vivid historical setting.
The book is an intelligent, well-researched story with compelling characters and a fast-moving plot. Excellent!
The rules of the Friends, the well-researched midwifery details, and Rose's intrepid loving ways combine to form a fascinating frame for a story that, though well steeped in the 1880s, will appeal to readers of contemporary cozies.
Called to Justice…a real page turner…if you are looking for a trip back in time, there is no better guide than Rose.
A wonderful gift …Called to Justice…riveting historical mystery…refreshingly different kind of heroine…a page turner…fascinating look at nineteenth-century American faith, culture, and small-town life.
…presents Quaker characters and their practices with refreshing authenticity…a clever twist that adds dramatic tension and opportunities for thoughtful insights.