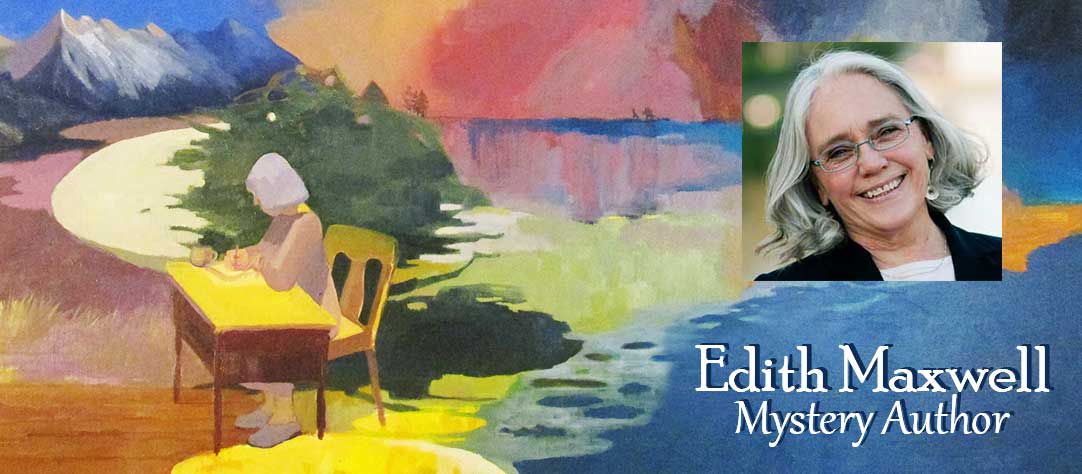 Cozy Capers Book Group Mysteries
by Maddie Day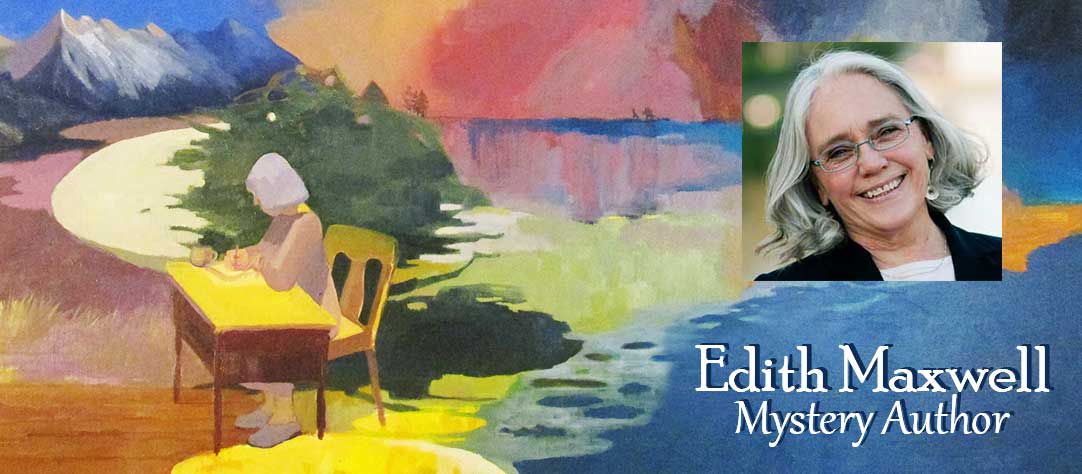 Cozy Capers Book Group Mysteries
Edith Maxwell writes this series as Maddie Day.
In the Cozy Capers Book Group Mysteries, Mac (Mackenzie) Almeida runs a bicycle repair and rental shop in the fictional Cape Cod village of Westham, and also hosts a weekly cozy mystery book group. The gang discusses the latest fictional murder – and sometimes a real one, too. Find questions for your own book club here: Murder on Cape Cod Book Club Questions.
Set in a picturesque Cape Cod town, the latest in this cozy mystery series by the Agatha Award–winning author will delight fans of Lorna Barrett's Booktown series and Kate Carlisle's Bibliophile mysteries, as bike-shop owner Mackenzie "Mac" Almeida and her fellow book club sleuths solve a bookstore murder.
A rainy July weekend in Westham means the beaches are empty and business is dead at Mac's Bikes but couldn't be livelier inside the Rusty Anchor Pub. But come Monday morning one patron is not so lively when the chef opens up and finds a body behind the bar. It's last call for Bruce Byrne, an elderly high school teacher who's been around so long it seems like he taught everybody.
When Mac's friend Flo, the librarian, makes the list of suspects, Mac gathers the Cozy Capers Book Group to clear her name. With no end in sight to the rain, the group has plenty of time to study the clues and sort through a roll call of suspects to determine who decided to teach Mr. Bryne a lesson. But with a killer desperate to cover their tracks, Mac and the group will be tested as never before . . .
Release date: June 2024
There are links to more ordering options at the bottom of this page.
Everyone loves a festival, though bike-shop owner Mackenzie "Mac" Almeida has a few concerns about the Spring equinox event organized by the new Westham Chamber of Commerce director, Wagner Lavoie. After all, March weather on Cape Cod is unpredictable. Still, there's plenty to enjoy, between flower-shaped candies at Salty Taffy's, spring rolls at the Rusty Anchor, and a parade of decorated bicycles. But the festivities soon take a stormy turn. Mac glimpses conflict between Wagner and other locals during the festival, but it's a shock when he's found dead in the Book Nook, pinned beneath a toppled bookshelf. Mac and the rest of the Cozy Capers book group will have to use all their sleuthing skills to bring the killer's story to an end . . .
Release date: August 22, 2023
There are links to more ordering options at the bottom of this page.
It's beginning to look a lot like murder in the fourth Cozy Capers Book Group Mystery, as Cape Cod bike shop owner Mackenzie "Mac" Almeida and her book club sleuths must solve a murder before Mac and her fiancée's New Years Eve wedding…
'Tis the day after Christmas, following a wicked-busy time of year for Mac's bike shop. It's just as well her Cozy Capers Book Group's new pick is a nerve-soothing coloring book mystery, especially when she has last-minute wedding planning to do. But all pre-wedding jitters fade into the background when Mac and her fiancé, Tim, begin a cottage renovation project and open up a wall to find a skeleton—sitting on a chair, dressed in an old-fashioned bridal gown. As Mac delves into the decades-old mystery with the help of librarian Flo and the book group, she discovers a story of star-crossed lovers and feuding families worthy of the bard himself. Yet this tale has a modern-day villain still lurking in Mac's quaint seaside town, ready to make this a murderous New Year's Eve…
Maddie was interviewed about the book and the series by the Hunterdon County Library.
Murder in a Cape Cottage released September 27, 2022.
With the suspect list growing and the days counting down to Mac's wedding, I felt the need to read faster and faster to find out what happens next. I, for one, can't wait for the next book in this delightful series! – Reviewer Kim Davis
There are links to more buying options at the bottom of this page.
In Murder at the Lobstah Shack, when murder turns out to be the special of the day at her friend's seafood restaurant, bicycle shop owner Mackenzie "Mac" Almeida and her fellow book club sleuths have to net a killer . . .
Tulia Peters' Lobstah Shack offers locals and tourists in Westham, Massachusetts, some of Cape Cod's most amazing cuisine. But when the body of Annette DiCicero is discovered in the kitchen's walk-in freezer—with a custom-made claw-handled lobster pick lodged in her neck—spoiled appetites are the least of Tulia's worries. After a heated public argument with Annette, Tulia is a person of interest in the homicide investigation. To clear Tulia's name, Mac and the Cozy Capers Book Group snoop into Annette's personal life. Between her temperamental husband, his shady business partner, and two women tied to Annette's past life as "Miss New Bedford", several suspects and multiple motives emerge. And they're getting crabby about Mac intruding on their affairs. . .
It released on all platforms and formats in November 2021.
Murder at the Lobstah Shack mixes up a satisfying recipe of good-hearted characters, brain-teasing mysteries and evocative writing. As readers work to put the clues together, they'll enjoy all the details that makes a good cozy mystery so cozy: a community of close-knit neighbors, thriving small businesses, love interests who can make a mean lobster quiche and an easygoing pace of life—except, that is, for the occasional murder. -BookPage
There are links to more buying options at the bottom of this page.
Murder on Cape Cod, the series debut, is available in all formats.
It's just after Memorial Day in Westham, Massachusetts. Business is still a little slow, but that doesn't stop the weekly Cozy Capers book group from starting their summer reading list. As bicycle mechanic Mackenzie (Mac) Almeida walks home afterwards, she finds a body on the path behind her house. When it turns out to be murder, and her own half-brother is a prime suspect, Mac has to assemble more parts than a bike derailleur to find the real killer. 
The book released in December, 2019.
There are links to more buying options at the bottom of this page.
In Murder at the Taffy Shop, Cape Cod bicycle shop owner Mackenzie "Mac" Almeida and her mystery book club find a certain accusation of murder quite the stretch. Mac's friend Gin has found herself in a sticky situation. After wealthy genealogist Beverly Ruchart is found dead outside Gin's taffy shop, the candy maker becomes a person of interest. When it's revealed that Beverly was poisoned the night Gin brought a box of taffy to a dinner party at Beverly's house, she's bumped to the top of the suspects list. It's up to Mac and her Cozy Capers crime solvers to unwrap this real-life mystery. But this time they might have bitten off more than they can chew . . .
The book released in 2020.
There are links to more buying options at the bottom of this page.
Where to Buy The Cozy Capers Mysteries:
Reviews of Maddie Day's Cozy Capers Book Group Mysteries:
One of the highlights for me was the Hanukkah party in Murder in a Cape Cottage. It was so naturally done. It is not often I can celebrate my holiday vicariously in so wonderful a manner.
A fantastic start. Any cozy [fan] will be glad to snuggle in and meet these delightful new characters.
Twists and turns … kept me guessing … a truly clever reveal
Appealing and clever… colorful cast of characters (which include a feisty parrot named Belle), the ambient Cape Cod setting, and the overriding sense of community that connects the two…will beckon to every mystery lover.
A huge round of applause…writing is crisp…multi-layered plot features a cast of characters both diverse and perfectly suited … interesting plotlines cleverly intertwine…a solid page-turner.