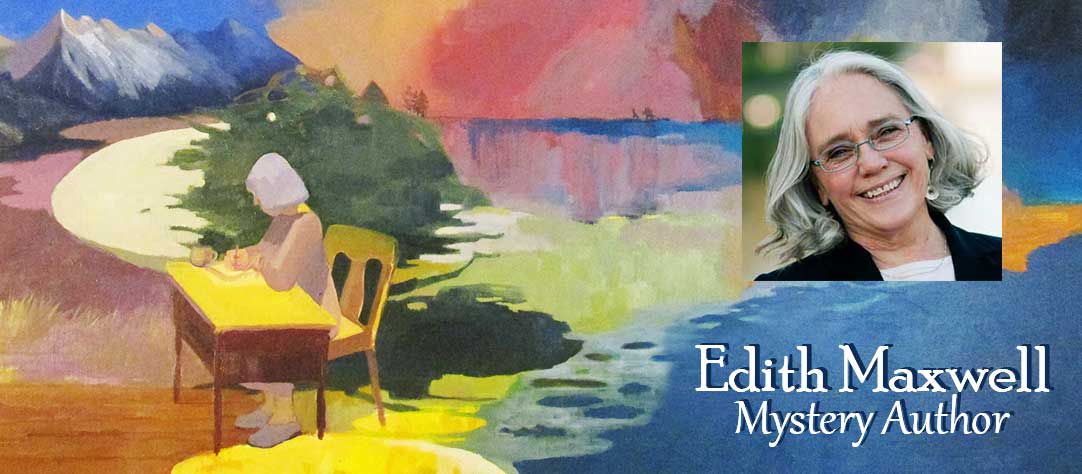 Appearances
Author Edith Maxwell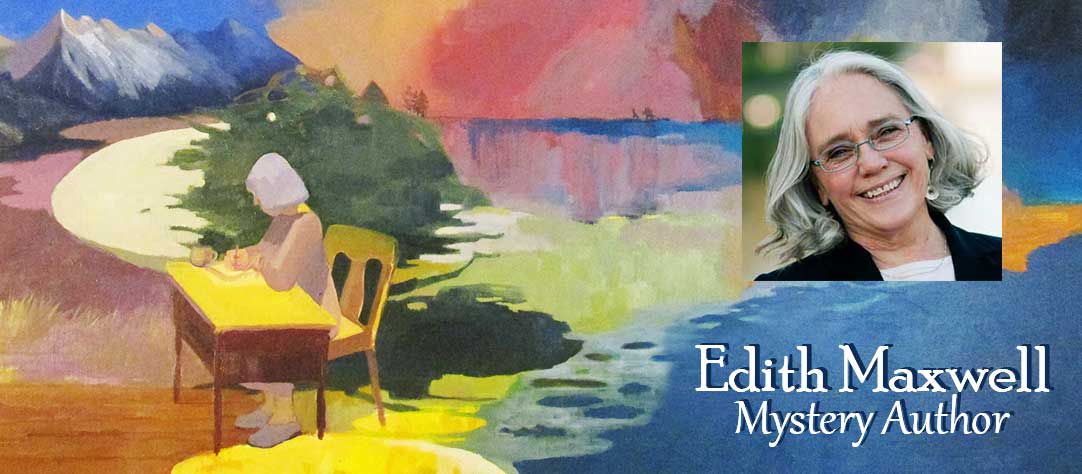 Appearances
Author Edith Maxwell
ROSE CARROLL SHORT STORY COLLECTION LAUNCH PARTY
Edith launches A Questionable Death and Other Historical Quaker Midwife Mysteries, her new collection of Rose Carroll short stories. Join her for a reading, plus book signing and wine and cheese, in Amesbury's history museum housed in a nineteenth-century former textile mill.
Saturday May 6, 5-7 PM
LOCATION: Mill 2 – Upper Millyard, Amesbury, MA (next to Flatbread Pizza)
AUTHOR MINI-FEST
Join Edith/Maddie and three other authors for a panel, signing, and small group discussions.
Saturday July 29, 12:30-3:30 PM
LOCATION: Ashland Public Library, 66 Front Street, Ashland, MA
SUMMER THRILLS AND CHILLS
Join authors Edwin Hill, Hank Phillippi Ryan, Joanna Schaffhausen, and Maddie Day (aka Edith) in Hingham, MA for an August afternoon of thrills and chills with Author presentations, signing, and schmoozing.
Saturday August 5, 1-3 PM
LOCATION: Barnes & Noble, Derby Street Shops, Hingham, MA
MALICE DOMESTIC:
Edith/Maddie will attend Malice Domestic. She'll be signing at the Kensington event at ten on Saturday and on a panel at eleven, with a signing at one. Otherwise, look for her in the bar!
April 28-30
LOCATION: North Bethesda, MD Convention Center
PATHWAYS TO PUBLICATION PANEL:
Edith/Maddie joins author Tilia Jacobs on a Sisters in Crime New England panel discussing Pathways to Publication, including traditional publishers large and small, independent publishing, and hybrid models. Register here.
Saturday April 8, 11-12 AM
LOCATION: Worcester Public Library (main library), 3 Salem Square, Worcester, MA 01608
NOIR AT THE BAR:
Edith/Maddie joins nine other hot New England authors presenting readings at the bar. Others include Tess Gerritsen, Brendan DuBois, Bruce Coffin, Lynne Griffin, Emily Ross, and more.
Wednesday 8 March, 7-9 PM
LOCATION: Portsmouth Book and Bar, 40 Pleasant Street, Portsmouth, NH
LAUNCH WEEK APPEARANCES:
Where Maddie will be online to celebrate the release of Four Leaf Cleaver
LIVE CHAT:
Edith/Maddie chats live on video about Four Leaf Cleaver and all things authorly with Kelly Vaiman. Join the Facebook Cozies, Conversations and More ahead of time to tune in to the event.
MYSTERY MAKING:
Edith/Maddie, along with authors Ang Pompano, Jane Bush Haertel, and Christine Falcone will be part of the South Windsor Public Library's "Booked for Lunch" series, on Tuesday, December 6, from 12:30 to 2 PM. Panelists for this fun, fast-paced improv game create a brand new mystery, with audience participation, live as part of the Sisters in Crime New England Speakers' Bureau.
December 6, 12:30 pm
LOCATION: 1550 Sullivan Ave, South Windsor, CT 06074
LITERARY CAPE ANN HOLIDAY BOOK & AUTHOR  FAIR:
Edith/Maddie, along with Wicked Authors blogmates Julia Henry and Cate Conte, will be at the Literary Cape Ann's second annual Holiday Book & Author Fair on December 3 from noon – 3pm.
December 3, noon-3pm
LOCATION: Brackett's Restaurant, 25 Main St., downtown Rockport, MA
NEW ENGLAND CRIME BAKE:
Edith/Maddie will be at the New England Crime bake conference – in person! On Saturday, November 12 find her at:
Historical Mysteries 9-10:15 AM. Edith is honored to be included on a panel with Guest of Honor William Martin moderated by Hank Phillippi Ryan. She'll also be part of a group anthology s

Group anthology signing 11:45-12:15. Edith's story, "The Management of Secrets," is in Deadly Nightshade: Best New England Crime Stories (Crime Spell Books). 
Conference registration required.
November 11-13
LOCATION: Dedham, MA Hilton
HUNTERDON COUNTY PUBLIC LIBRARY INTERVIEW:
Edith/Maddie is interviewed by the Hunterdon County Public Library, to stream live on their podcast and Facebook page. 
October 27, 11 am
LOCATION: On the library's podcast and Facebook page
CONCORD FESTIVAL OF AUTHORS MYSTERY NIGHT:
Edith/Maddie will be in person at the Concord, MA public library on October 30, at 7 pm for the Concord Festival of Authors Mystery Night with Kate Flora, Edwin Hill, and Carolyn Wilkins. Register here.
October 30, 7 pm
LOCATION: Concord, MA, Public Library
FALMOUTH, MA LIBRARY TALK:
Edith/Maddie presents Murder in a Cape Cottage, her latest and fourth in the Cozy Capers Book Group mysteries. Eight Cousins Books will sell books.
October 8, 2022 @ 6:30-8 pm
LOCATION:
Falmouth Pubic Library, 300 Main St, Falmouth, MA 02540. Register here.
WRITE NOW PANEL:
Edith/Maddie is delighted to appear virtually on a panel at the Desert Sleuths online Write Now! conference. 
September 17, 2022 @ 10:50 – 11:50 am
LOCATION:
Virtual Event
QUAKER MIDWIFE WALKING TOUR:
Join Edith in a short walking tour around downtown Amesbury, where her historical Quaker Midwife Mysteries are set. A reception and book signing at the Industrial History Center follows. Register for the walk here. The reception at 7 pm is free.
August 6, 2022 @ 5:00 – 7:00 pm
LOCATION:
5 Market SquareAmesbury, MA 01913 (map)
Cost: $10 
CONTACT: Bonnie Brady
HOW I SWITCHED CAREERS AND BECAME A PUBLISHED WRITER:
Join Edith/Maddie in a free outdoor event next to the Amesbury Public Library on Main Street for a talk about her late-in-life switch to being a full-time author of crime fiction. She will sell and sign a selection of her mysteries.
July 26, 2022 @ 6:30 – 8:00 pm
LOCATION:
Amesbury Public Library
Cost: Free 
CAPE COD BOOK SIGNING:
Please join author Amy Pershing and Maddie Day at a book signing in Sandwich, MA, where they'll sign their latest cozy mysteries set on Cape Cod.
July 11, 2022 @ 2:00 – 3:00 pm
LOCATION:
Titcomb's Bookshop
432 MA-6A, East Sandwich, MA 02537
Cost: Free 
CONTACT: Rae Titcomb 508-888-2331
Invite Edith to Speak
Author / Speaker / Panelist / Historian / Educator
Agatha-winning and Macavity-nominated author Edith Maxwell writes the Quaker Midwife Mysteries and the Local Foods Mysteries, as well as award-winning short crime fiction. As Maddie Day she authors the Country Store Mysteries and the Cozy Capers Book Group Mysteries. She also wrote two Lauren Rousseau Mysteries. 
Get details on Edith's Speaker page